{Kyoto, Japan. Fushimi Inari. You might recognize the tunnel from the movie
Memoirs of a Geisha
}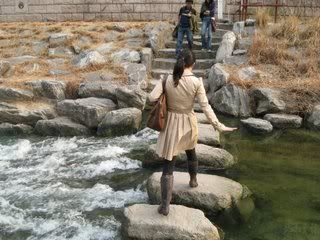 {Seoul, South Korea. Crossing the Cheonggyecheon stream, scared to fall in the water}
This week officially marks the end of Korea, and the beginning of... everything after. Obviously, Korea has been over for over two months now, but the transition back home was part of the adventure. I'm starting my television contract tomorrow, so it's the beginning of something new, something very exciting.
I remember my first day teaching in Korea, I was still jet-lagged, and awkwardly standing in front of twenty fourth graders who were intently staring at me. There I was, without any kind of training, wearing the mandatory indoor slippers, in my little cream knit dress, wondering where to start. Teaching a language that is not even my mother tongue. I think we ended up playing hang man for the whole hour. Thankfully, I don't feel like that for my new job, since I already know how it goes. And since it's a new television series, it's a whole new team, so we all start from scratch and help each other out. A little bit different!
I'll miss teaching, and I'll miss making a difference in kids' lives. I always felt like teaching was so rewarding. But then again, Aaron nicely pointed out that with my new tv show, I'll still make a difference, but for couch potatoes ;) I definitely won't miss the Korean workplace, with its lack of communication, last minute surprises, and frustrations due to the language barrier. I've been craving the excitement, creativity and franticness that goes on in television studios, so cheers to a change!
{Hope you all had great weekends. My roommate and I hosted a themed party, I shall post about it along with some fun pictures}