I was lucky enough to get invited to Seoul Fashion Week by a Korean friend of mine who works in fashion. She is like Lauren and Whitney from The Hills, she is an intern and works backstage at shows. I actually met her back in Montreal, where she was studying, and she was one of the applicants to rent my apartment. The apartment was already taken, but somehow we stayed in touch as she was providing me insightful information about Seoul and beauty and fashion there. She is now back in Korea, and we hung out a few times, she is the sweetest girl I've met.
Last night we headed to a fashion show from designer Lee Young Hee, who is the most famous Korean designer. I've looked her up and saw she was showcased in Paris and New York fashion weeks a few years ago. She also owns a
Korean Traditional Dress Museum
in NYC, which is an interesting fact.
Her designs are all inspired by the traditional Korean dress, which is called a Hanbok. She uses the traditional materials such as silk and linen to create more contemporary versions of the Hanbok. And the metallic quality of silk gives volume and structure to her designs. Here is the traditional Korean costume: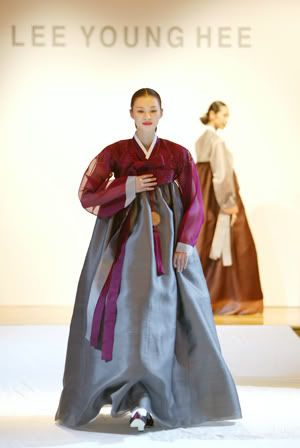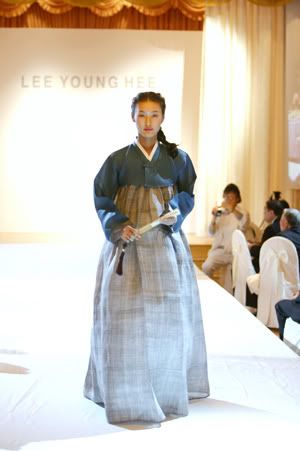 And Lee Young Hee's designs, inspired from them: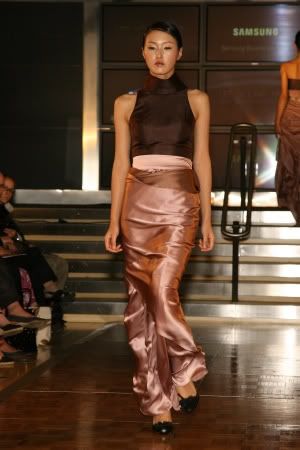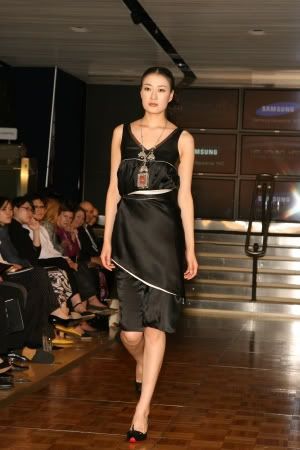 I thought it was a beautiful collection, even though I'm not the biggest fan of silk and its iridescence. The dresses were whimsical and amazingly draped the model's bodies. I was pleasantly surprised to see healthy-looking models, thin but not skinny. It was my first fashion show so I was overall pretty impressed by the grandeur of the event, with all the press and front-row celebrities, and the music, and runway.