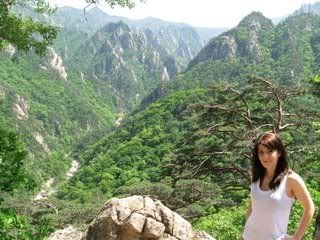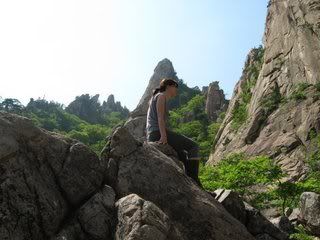 Hiking is Korea's most popular leisure activity.The country is covered with mountains (about 70%), so it makes sense. The scenery is quite amazing, and it's especially nice to feel so far away from the city, even though you're still in Seoul. The city is surrounded by mountains that can be easily reached by a short subway ride. Koreans are so serious about hiking: they have the full hiking gear, which includes sun visors, gloves, backpacks, walking sticks, shoes and matching North Face outfits.
I was excited at the prospect of hiking the numerous mountains, but I soon realized that a hike in Korea is not a hike on Mont-Royal (Montreal's famous small hill). I love and I hate hiking at the same time. I love being outside, I love the nature (for a few hours at a time), I love the workout, and I love the sights. I guess I hate how scary it gets when you get near the top, and suddenly you have to go up on really steep and dangerous rocks, holding on to a steel rail, and hope for the best. I hate how you always think you're close to the top, but you still have two more hours to go. And I hate how crowded it gets, so crowded that sometimes you have to wait in line to go up a few rocks.
Today was a national holiday (Korea's birthday, happy birthday Korea!), so Aaron and I decided to take advantage of the beautiful, crisp autumn weather and go hike a pretty big mountain (810 meters), right outside of Seoul. It was probably the most strenuous hike I've ever been on, and also the scariest. The part close to the summit was pretty much rock-climbing on a verrrry steep path, with only a thin steel railing to hold on to. I guess wearing Converse shoes to go hiking is not the best idea, gets a bit slippery. I have yet to invest in a full-on hiking outfit (it's not happening). Aaron had to bribe me with a Snickers bar and a promise that we'd go to a museum tomorrow when I declared that I actually hated hiking, at about 800 meters up. I also mumbled something about wishing we had some Soju or strong liquor in toll (something I never actually desire). I was going to lose my mind. But I made it (um, almost). The view from the top is rewarding, and so is the feeling of accomplishment (and getting a kick ass workout out of it). Going back down is another difficult part, so hard on the legs (and slippery), but still enjoyable.
We were pretty much the only foreigners climbing today (we saw only 4 others, which is not a big daily occurrence). At one point, we were sitting down on a rock, just having granola bars and water, and we had a real celebrity moment. Half of the Koreans walking by would do a double take, and either point or smile or tell their friends about a "foreigner sighting". I'm not used to so much attention, since Seoul is a big city with a big foreigner population, but apparently small-town Korean peeps are still excited at the sight of a white person. One elderly man even did a 180 and came back so close to us, examining our faces and peeking at our snacks. Another person had the nerve to actually put his camera right in our face and take a picture, flash included. We felt a bit like animals on display at a zoo, but since it never really happens, I thought it was hilarious and actually enjoyed my 15 minutes of fame.
Even though I'd probably rather go to a museum or sit at a cafe, I'm happy when hiking (or rather when I'm done), and I'm proud I'm in good enough shape to make it to the top (especially when my Lonely Planet states, "Moderate Fitness is Required").